New Brunswick Anti-Shale Gas Alliance Calls for Public Inquiry into October 17 Raid
Group echoes fears of further conflict expressed by Amnesty International open letter to premier
December 10, 2013 (Moncton, NB) – On this, International Human Rights Day, the New Brunswick Anti-Shale Gas Alliance (NBASGA) is asking the provincial government for an independent, public inquiry into events surrounding the October 17 RCMP raid on a peaceful shale gas protest camp near Rexton.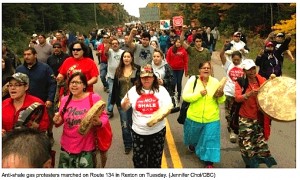 The group echoes the fears expressed in an Amnesty International letter to Premier David Alward and his cabinet dated, November 1, that unless steps are taken to rebuild the relationship with Indigenous Peoples with respect to resource development, further incidents could occur.
Amnesty International says that this incident "could have been avoided had the province acted in a manner consistent with its obligations to respect the human rights of Indigenous peoples under Canadian and international law." When the world's foremost human rights organization expresses concern about human rights issues in New Brunswick, citizens should be concerned as well.
NBSAGA believes the people of New Brunswick have a right to know the reasons behind the sudden escalation in the use of force on October 17.  Today, they sent a letter to the Premier and cabinet, as well as opposition leaders, requesting the inquiry and saying there are many unanswered questions about what transpired at Rexton.
"We would like an independent public inquiry to examine what role this failure to respect the human rights of Indigenous peoples may have played in the events leading up to October 17," says Jim Emberger, spokesman for NBASGA.  "An independent, impartial inquiry held at arm's length from government is necessary because the Provincial Government itself played a role in those events."
Since opposition began, thousands of people have visited peaceful demonstration sites across the province bringing supplies, and financial and moral support without incident. Rexton was no different until the morning of October 17.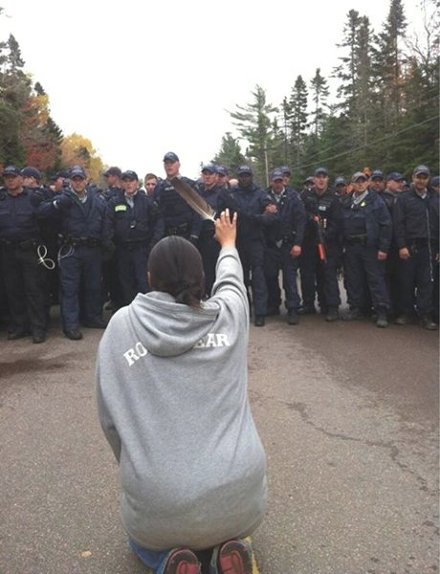 "From what we can see," notes Emberger, "there was no threat to public safety until police, advancing with drawn guns and accompanied by dogs and snipers in camouflage, attacked unarmed civilians, including women and children, with pepper spray and non-lethal rounds."
"Use of force must always be a last resort and the scale and nature of the force deployed must be in proportion to the need to protect public safety," writes Amnesty International.
Among its many other questions, NBASGA asks why police did not first consult with First Nations' chiefs who were vocal advocates of non-violence as a means of addressing safety concerns without armed force.  Instead, the RCMP arrested Chief Sock and his counselors, thus preventing them from intervening in the situation.  "Arresting a respected chief who has repeatedly stressed the importance of peaceful protest is baffling," says Emberger.
NBASGA also questions why police continued allowing citizens to enter the site, considering the police themselves claim it was a dangerous situation threatening public safety.
As well, despite a massive police presence, RCMP vehicles were set ablaze with no police intervention and, to date, no arrests of suspects for arson.
The NBASGA and other anti-shale groups have been engaged in peaceful education, discussion and debate for three years and it is their intent to remain that way. They recognize that peaceful protest may include civil disobedience, but never violence, and feel acts of civil disobedience have occurred only because of government refusal to address citizen concerns in any meaningful way.
"The current and continuing threat of violence was initiated by the RCMP/government in the Rexton raid," says Emberger, "and this violence has drawn the public's attention away from the important issues, and also from the coverage of recent significant scientific, economic and political reports and events concerning shale gas."
Therefore, it is in the public's interest to have an independent investigation of the Rexton event, not only to find ways to diffuse future incidents, but also to allow the public discourse and media coverage to return to the discussion of the topic of shale gas.
Link to Amnesty International Letter