MONCTON, NB (June 23, 2014) – The New Brunswick Anti-Shale Gas Alliance (NBASGA) is taking the provincial government to court to stop shale gas development in the province."We're taking this action to protect the health and well-being of New Brunswickers, both now and in the future," said NBASGA chairman Roy Ries.
NBASGA is an alliance of 22 non-profit, community groups across New Brunswick. It filed a Statement of Claim against the Province of New Brunswick in Saint John Court of Queen's Bench Monday. NBASGA's lawsuit says the development of unconventional shale gas and oil deposits poses so great a threat to human health and the environment that it violates Section 7 of the Canadian Charter of Rights and Freedoms guaranteeing all persons in Canada the right to life and security of their person. That right to security of the person entails the right of Canadians to health and to clean drinking water.
NBASGA is asking the Court to impose a moratorium on the development of unconventional shale gas and oil until such time as long-term, population-based scientific studies demonstrate that it can be done safely. Regina lawyer Larry Kowalchuk is representing NBASGA, while Alliance directors Roy Ries, Jim Emberger and Carol Ring are acting as plaintiffs.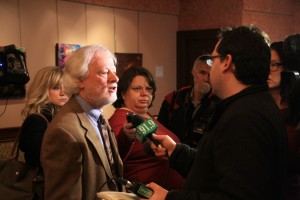 "The scientific research that has been done to date on shale gas, and the experience of communities elsewhere with the industry, is alarming," Roy Ries said. "These show that shale gas development using current technologies needlessly jeopardizes the health of families and communities across New Brunswick."
"For example, a recent study by scientists from the Colorado School of Public Health and Brown University found a strong correlation between a pregnant woman's exposure to unconventional oil and gas wells and congenital heart defects," he said.
There are many such studies documenting life-threatening health problems and contamination of air, water and land associated with shale, Ries noted. "NBASGA will place the best available, peer-reviewed scientific studies documenting that damage before the courts."
Denise Melanson and Jim Emberger are NBASGA's official spokespersons for its legal action.
"Court action to stop shale gas is necessary because the Province of New Brunswick has ignored the many dire warnings about such development from both independent scientists and doctors, including the recent report from The Council of Canadian Academies that said there is no scientific basis for existing shale gas regulations" Emberger said.
"We have tried every means possible to get the provincial government to take the warnings about these dangers seriously, but they have been ignored or dismissed out of hand each and every time," he said. "The Canadian Charter of Rights and Freedoms guarantees the right to life and security of the person and neither governments nor corporations are allowed to violate those guarantees by ignoring threats to them for any purpose. This is why we are going to the courts."
NBASGA also intends to document for the court the fact that shale gas development elsewhere has been shown to pollute groundwater, water wells and surface water that are some distance from actual drill sites.
"Along with the contamination of provincial water sources, and the serious health problems associated with the industry, we are also confronted by the virtual certainty of air pollution resulting from development of unconventional shale oil and gas," says Denise Melanson.
Melanson also notes that shale gas is a major contributor to climate change, and that climate change is a threat to all life on the planet.
Links:
NGASGA's Statement of Claim (English only)
Be Part of History! Contribute to the Legal Action Fund to help New Brunswickers Stop Shale Gas & Oil Development and protect their health and home.
In the News:
CBC News:  Anti-Shale Gas Group Suing the Government
Harbinger:  NBASGA Files Suit for Fracking Moratorium
CBC Info Morning with NBASGA's Jim Emberger: Shale Gas Lawsuit