We are happy to announce that NBASGA spokesperson, Jim Emberger, has won the first annual Beth McLaughlin Environmental Journalism Award for his extensive reporting on the dangers of hydraulic fracturing.
The panel of judges, selected by the Southeast Chapter of the Conservation Council of New Brunswick, cited Emberger's extensively researched writing for focusing attention on a significant environmental issue and helping to deepen public understanding of it.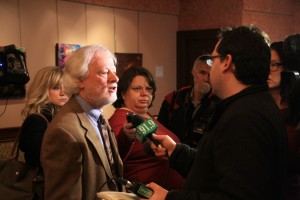 In addition to his series of clearly written and persuasively argued newspaper commentaries, Emberger has been frequently interviewed by CBC, Global News and CTV Atlantic.  He also produced our online citizen's guide to fracking as well as a series of blog posts documenting the environmental hazards involved in the extraction of shale gas.
NBASGA congratulates the other highly-deserving 2016 finalists:  Charles Thériault of Kedgwick, NB for his extensive online video series "Is Our Forest Really Ours," featuring interviews and commentaries on the need for the public to retake control of New Brunswick Crown Lands; and Donna McLellan, whose "Earth Matters" columns in the Sackville Tribune-Post explore the science, politics and economics behind a wide range of environmental issues. We are fortunate to have these committed individuals, dedicated to the cause of furthering environmental justice in our province.
The award ceremony will take place during the CCNB SE Chapter's 100 Mile Dinner on Sunday, October 23 at the Cocoa Room, 391 Coverdale Rd. in Riverview.
The panel of judges consisted of Mount Allison University professor Erin Steuter, environmental consultant Roland Chiasson and retired journalism professor Bruce Wark.
The CCNB award is named in honour of the late Beth McLaughlin, a passionate writer, teacher and environmental activist who wrote a weekly column on sustainable communities for the Moncton Times & Transcript.