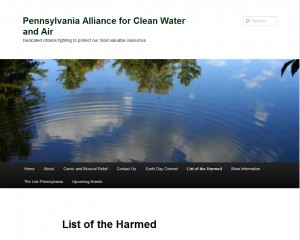 The Pennsylvania Alliance for Clean Water and Air has a common goal of protecting natural resources and the environment- primarily from the dangers of hydraulic fracturing (or "fracking") in the Marcellus Shale Play.
Through public meetings and the media, they raise awareness of the dangers of hydraulic fracturing on public health and the environment, and work to halt activity that threatens the quality of life of the residents of the Commonwealth of Pennsylvania.  They have compiled a List of the Harmed, drawing attention to the stories of Real People Harmed by the effects of hydraulic fracturing, and media links to their stories.
The list currently has 5000+ submissions.