On Friday, May 27, 2016, the Brian Gallant Liberal government announced that the moratorium on hydraulic fracturing would continue indefinitely. Below are links to NBASGA's official Press Statement on the extended moratorium, and comments from spokesperson, Jim Emberger, as well as congratulatory notes from our supporters around the world.
This is a good day for the People, the Province, the Planet…and for our Democratic Process.
Quick Links:
Press Statement-English
Communiqué – Français
CBC:  New Brunswick indefinitely extends hydraulic fracturing moratorium
Comments from NBASGA spokesperson, Jim Emberger:   There are just so many people from every corner of the province, every walk of life, every ethnic background, indigenous people and settlers who made this possible that it is an impossible task to list them.  The cast of heroes has changed constantly over the last six years from those who were lonely voices in the beginning, to the organizers of the movement, to the demonstrators, to those putting themselves in harms way – the writers, the speakers, the donators of money, food, expertise – those who showed up when called, for whatever needed to be done.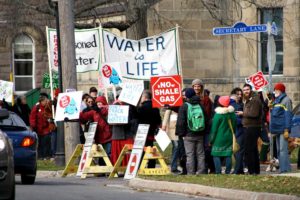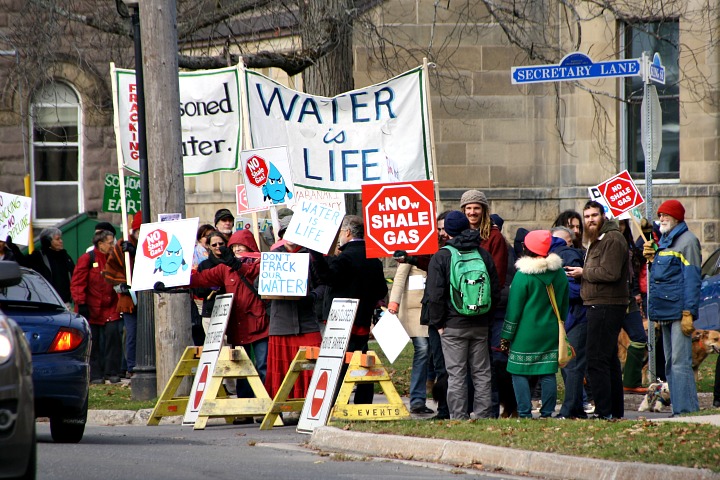 This campaign has shown how democracy should work, and that it possible for citizens to band together to advance their will and protect themselves, their neighbors and the earth. It should not have taken such a herculean effort, but now that we know that it can be done, and how it can be done, the next time should be easier – because their always will be a next time.
But for now, we should celebrate the saving of our province and congratulate ourselves on an effort whose success was undoubtedly a surprise to the powers-that-be everywhere.
Below are some congratulatory emails from our friends and allies:
Yes!! Congrats to all of you. Another significant win for truth; I will always remember my visit to NB and please give my best to all my friends there.  Best, Tony Ingraffea
This is fabulous news — and very timely, since Chris is right now putting the new show together. We'll incorporate this in the script.  Congratulations! You guys have done a fabulous job. We've used the NB story, essentially as-is, in the new film too.   Cheers,  Silver Don Cameron  (Documentary filmmaker who featured our struggle in  the "Defenders of the Dawn".)
That's great news.  Well done!   All best,    Naomi Oreskes    (Dr. Orsekes was to be our expert witness on climate change)
And from those around the world with whom we have been in touch.
Thanks for this excellent news and congratulations to the anti-fracking movement in NB.  I think the 5 conditions could be a useful model for others, as well as the 4 achievements of the government/state policy demanded before any  exploitation could ever start (in Europe we could replace First Nations by local communities). Ewa Sufin-Jacquemart     Fundacja Strefa Zieleni (Green Zone Foundation)    Poland
Congratulation !!!  Buenas noticias para New Bruswick, Canadá. Moratori shale gas por siempre.  (Good news for New Brunswick , Canada. Moratori shale gas forever.)  cooperacionxterritorioslibresfracking
Congratulations,  This is such good news.  I had the pleasure of taking a vacation several years ago,on Grand Manan Island in the Bay of Fundy.   Sandra Kissam,  President,  Stewart Park and Reserve Coalition  Blooming Grove, NY
Wonderful!   Thanks for sharing.   Mary Gutierrez,  Executive Director  Earth Ethics, Inc.
That's Brilliant News Jim, Congratulations from all at Frack Free Lancashire.   Jas Singh
This next and last quote is from a person in Yorkshire, UK, where the government has just given the OK for shale licenses.  They are where we were 6 years ago.  Kathyrn, the writer, had asked me to send an email to their paper – The Yorkshire Post – which I did (the day before the moratorium extension), and they did a news article from it.  So it is additionally gratifying that we are able to help those in other places with our experiences. If you would like to read the UK article:  http://www.noshalegasnb.ca/nbasga-lends-voice-uk-activists/
Thank you !!! God bless you.  There is great fury and stirrings of public dissent here following the decision. Yorkshire groups are taking legal advice over judicial review. Now it seems that the government is withholding a report by the Committee on Climate Change that says that fracking will ruin the environment. Thanks for your support! With best wishes, Kathryn
Good wishes to all,
Jim