by Tom Richmond, Yorkshire Post, 27 May 2016
INTERNATIONAL support is growing for Ryedale's anti-fracking movement as Energy Minister Andrea Leadsom claims that the extraction of shale gas in North Yorkshire is "an opportunity we can't afford to miss" if UK energy supplies are to be secured. A week after more than 850 elected civic leaders from New York State urged North Yorkshire County Council to reject Third Energy's application for a test site at Kirby Misperton – a plea that fell on deaf ears on Monday night – opponents in the Canadian province of New Brunswick are the latest to lend their support.
They have explained how they even resorted to "civil disobedience" until fracking plans for the eastern edge of Canada were made the subject of a moratorium so further evidence could be ascertained.
Even though Mrs Leadsom writes in The Yorkshire Post today that safety is the Government's top priority, Jim Emberger, a spokesperson for the New Brunswick Anti-Shale Gas Alliance, said lessons can be learned from his community's campaign which began in 2010 after the US state of Arkansas was "steamrollered".
"For five years we worked hard work at civic activism of every type – public education and consciousness-raising, building a wide-ranging coalition, demonstrating, lobbying politicians, and bringing in expert testimony," he explained.
"We filed a lawsuit against the provincial government based on a constitutional right to the guarantee of clean air and water. But we also found it necessary to practice civil disobedience by blockading seismic testing equipment. People were arrested and faced state-sponsored violence. This happened in a country and province where such things are nearly unheard of, but were found to be necessary against an intransigent government. In the end the cumulative effect of all these efforts resulted in a change of government and the new government instituted an immediate moratorium, which we are cautiously optimistic will be made permanent."
Mr Emberger also challenged North Yorkshire residents to maintain the pressure as opponents consider the possibility of mounting a legal challenge to the council's decision.
"Citizens must put forth their greatest efforts from the very beginning. If this industry is not nipped in the bud, the prospects of ever stopping it later are nearly non-existent," he advised.
"Once it gets going, the only things that will stop it are its unsustainable economic case or possibly an environmental or public health disaster. As Arkansas advised us, we advise our cousins in the UK: do not rest or wait to react to government or industry actions. You must seize the initiative and pursue all avenues. Science, economics and common sense are all on your side."
However the safety concerns continue to be refuted by the Department of Energy and Climate Change. "I really believe that this is an opportunity we can't afford to miss – but safety will always be the most important thing and we aren't taking any chances," writes the aforementioned Mrs Leadsom.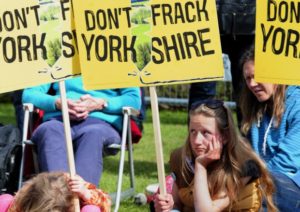 "Authoritative studies, carried out by world-class institutions, scientists and other experts, consistently find that if we regulate fracking properly, it poses no more risk than those similar, already established, industries.
"Now is the time to start exploration, to find out just how much shale gas is there, and start developing this exciting new industry so we can all reap the benefits."
Reprinted from: http://www.yorkshirepost.co.uk/news/fracking/exclusive-canadians-join-ryedale-fracking-fight-as-minister-refutes-safety-concerns-1-7935644