An impressive line up of Acadian, Anglophone and First Nations musicians will take the stage at the Capitol Theatre at 7 p.m. on September 4th for a benefit-concert aptly titled, the No Shale Show! / Pas d'schiste show! Proceeds will go to the New Brunswick Anti Shale Gas Alliance's (NBASGA) legal fund.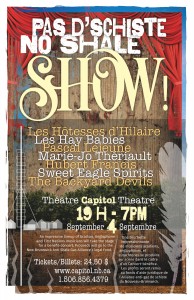 PDF Download COMMUNIQUÉ :  « Pas d'schiste show ! »
Des musiciens se mobilisent pour appuyer l'Alliance anti-gaz de schiste
Serge Brideau, lead singer of Les Hôtesses d'Hilaire, came up with the idea. His band will be sharing the stage with Les Hay Babies, Pascal Lejeune, Marie-Jo Thériault, Hubert Francis, Sweet Eagle Spirits, and the Backyard Devils.
Serge Brideau says they're all very concerned with the way the provincial government has chosen to forge ahead with the development of the shale gas industry in New Brunswick. "It's important to talk about it, especially with the upcoming election campaign. As artists, we're aware that we can draw a fair amount of media attention, and because we truly believe that the issues surrounding hydraulic fracking and the potential consequences on our environment and our health are too distressing to ignore, we've decided to speak up about it."
Brideau, who has already spoken his mind about the Premier, in the song "David Awkward", says it wasn't hard to find other acts willing to participate in the benefit concert. "We've had more offers than we have time for, which goes to show how much this cause means to members of the New Brunswick music industry."
On June 22nd, the New Brunswick Anti Shale Gas Alliance (NBASGA) filed a suit with the Court of Queen's Bench asking for a moratorium on the development of unconventional shale gas and oil until such time as longterm, population-based scientific studies demonstrate that it can be done safely.
The NBASGA spokesperson for this event, Nicole Richard, says they were overjoyed and grateful when they found out that these artists were ready to give so generously of their time and talents. "In addition to giving a boost to our legal fund, it also gives us another media platform to help us reach more people. Regardless of our roots or the language we speak, it's important to find ways to share our thoughts and discuss the future of our province. Music is an integral part of our three cultures, and this concert will also allow 2 us to celebrate and share all the wonderful things we have in common," she added.
The New Brunswick Anti Shale Gas Alliance, comprised of 22 non-profit community groups, represents the interests of New Brunswickers opposed to shale gas exploration and development, while promoting a future in clean energy alternatives.
Tickets are now on sale for $24,50 at the Capitol Theatre box office, as well as online: www.capitol.nb.ca. Tickets will also be available at the farmers markets in the region during the next two weekends.