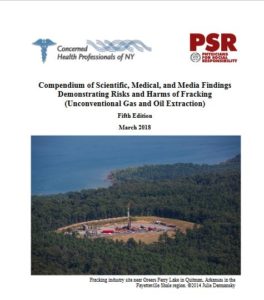 Commentary by Jim Emberger, Telegraph Journal, 4 May 2018
The New Brunswick Progressive Conservatives' plan to lift the moratorium on shale gas paints a disappointing portrait of a party unable to exercise even minimum due diligence on this issue.
The NB Anti-Shale Gas Alliance filed a lawsuit challenging the province's embrace of shale gas in 2014, and unlike the PC's, we have tracked every scientific study since then, from a handful to over 1,300 today. All can be found in the, "Compendium of Scientific, Medical, and Media Findings Demonstrating Risks and Harms of Fracking."
The evidence presented to the Commission on Hydrofracking from even the modest number of studies available in 2014 was strong enough to lead to our moratorium. Accumulating evidence presented to commissions in Nova Scotia, PEI, Newfoundland, New York, Maryland, Scotland, Wales, Ireland, France, and others, likewise led to moratoriums or bans.
Essentially, the only places hosting a shale gas industry are those where the industry was established before any public examination. In light of this history, any call for lifting a moratorium must be accompanied by new evidence that the problems cited in the moratorium have been resolved.That the PC's offer no such evidence suggests that they know none exists, or that they made no effort to check.
In summarizing the evidence of 1,300 studies the 'Compendium' notes, "Earlier scientific predictions and anecdotal evidence are now bolstered by extensive empirical data, confirming that the public health risks from unconventional gas and oil extraction are real, the range of adverse environmental impacts wide, and the negative economic consequences considerable."
"Findings to date from scientific, medical, and journalistic investigations combine to demonstrate that fracking poses significant threats to air, water, health, public safety, climate stability, seismic stability, community cohesion, and long-term economic vitality."
The shale gas industry obviously cannot satisfy any of the conditions for lifting the moratorium. We could now demonstrate to a court that evidence against the industry has grown in every respect.
With horizontal wells now commonly exceeding two miles in length, "fluid injections, once typically three to five million gallons per fracked well, can now easily reach 10 to 20 million gallons."
"Cases of drinking water sources contaminated by drilling and fracking activities, or by associated waste disposal, are now proven."
Wastewater disposal still lacks a good solution. "Fracking wastewater discharged into rivers and streams through treatment plants created dozens of … disinfection by-products that are particularly toxic and raise concerns regarding human health." Recycling wastewater for reuse "can transfer volatile pollutants from water into air… and water treatment emissions can serve as an important point source of air pollutants." Wastewater injection causes thousands of earthquakes, which are not limited to the time and place of injection: "Fracking wastewater injection can migrate for years before encountering a geological fault — traveling for miles beyond the disposal well and persisting for a decade or more as injected fluids travel underground."
Fracking itself has caused such large earthquakes that critical facilities in BC, such as hydroelectric dams, are protected by "no frack" exclusion zones with a 5-kilometer radius."
An analysis of health studies could not find any way "that fracking can be practiced in a manner that does not threaten human health."
Pregnant women, infants and children are especially vulnerable. "The introduction of fracking reduces health among infants born to mothers living within 3 kilometres of a well site during pregnancy," far beyond the few hundred metres even the toughest regulations require between gas wells and residences.
"Studies of mothers living near oil and gas extraction operations consistently find impairments to infant health, including: elevated risks for low birth weight and preterm birth, neural tube defects and congenital heart defects."
"Dozens of known endocrine-disrupting chemicals used in hydraulic fracturing, at levels to which people can be realistically exposed," are linked to, "harm to fertility and reproductive success… miscarriage, prostate cancer, birth defects, and decreased semen quality and counts."
"Higher rates of leukemia [were found] among children and young adults living in areas dense with oil and gas wells," and "Living near drilling and fracking operations significantly increases asthma attacks."
The industry's huge contribution to climate change has been exposed. "Well sites leak far more methane and toxic vapors than previously understood, and they continue to leak long after they are decommissioned."
Finally, oversupply and low prices led the Wall Street Journal to note that, "energy companies…have spent $280 billion more than they generated from operations on shale investments." Meanwhile, renewable energy is as cheap as gas and grows cheaper, while gas can only get more expensive.
These conditions spark warnings of "large-scale firings, cutbacks in safety measures, and landscapes pock-marked by abandoned wells in need of remediation and long-term monitoring."
Mr. Higgs, please abandon this ill-conceived decision, and suggest something that will actually help all New Brunswickers.