Like those of us here in New Brunswick, Newfoundlanders have serious concerns about the industry, and public opposition to fracking has been strong and wide-spread, in particular around the endangered west coast jewel of Gros Morne National Park.  Quick Links:
In October 2014, the Minister of Natural Resources, Government of Newfoundland and Labrador appointed an independent panel to conduct a public review of the socio-economic and environmental implications of hydraulic fracturing in Western Newfoundland. The panel's mandate is to make recommendations on whether or not hydraulic fracturing should be undertaken in Western Newfoundland.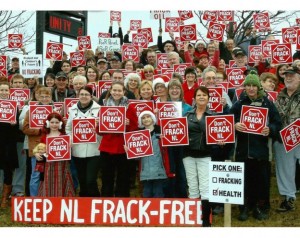 In April, the panel called for public input leading up to public consultations later this summer. In response to this request – and in support of opposition groups in Newfoundland and Labrador – NBASGA submitted the following document summarizing our own research and findings.
As an indication of the amount of data to be reviewed, the panel has released 40 pages (with links) of research, studies and documentation submitted for consideration, including letters and creative submissions from individuals….all accessible by the public.